Eating Thai food is a huge (and important) part of your holiday in Bangkok and Thailand. Thanks to its exotic flavours and fragrances, Thai cuisine is popular worldwide. A walk through the city's alleyways often results in a stop at a food stall, where you can enjoy skewered meats, fried rice, noodles, and spicy soups at rather affordable prices.
If you prefer dining in a more comfortable setting, Bangkok has plenty of restaurants offering an extensive menu of classic Thai dishes. Sample the very best of the city's local offerings by referring to our guide to the best Thai food.
1
Tom yum goong (spicy shrimp soup)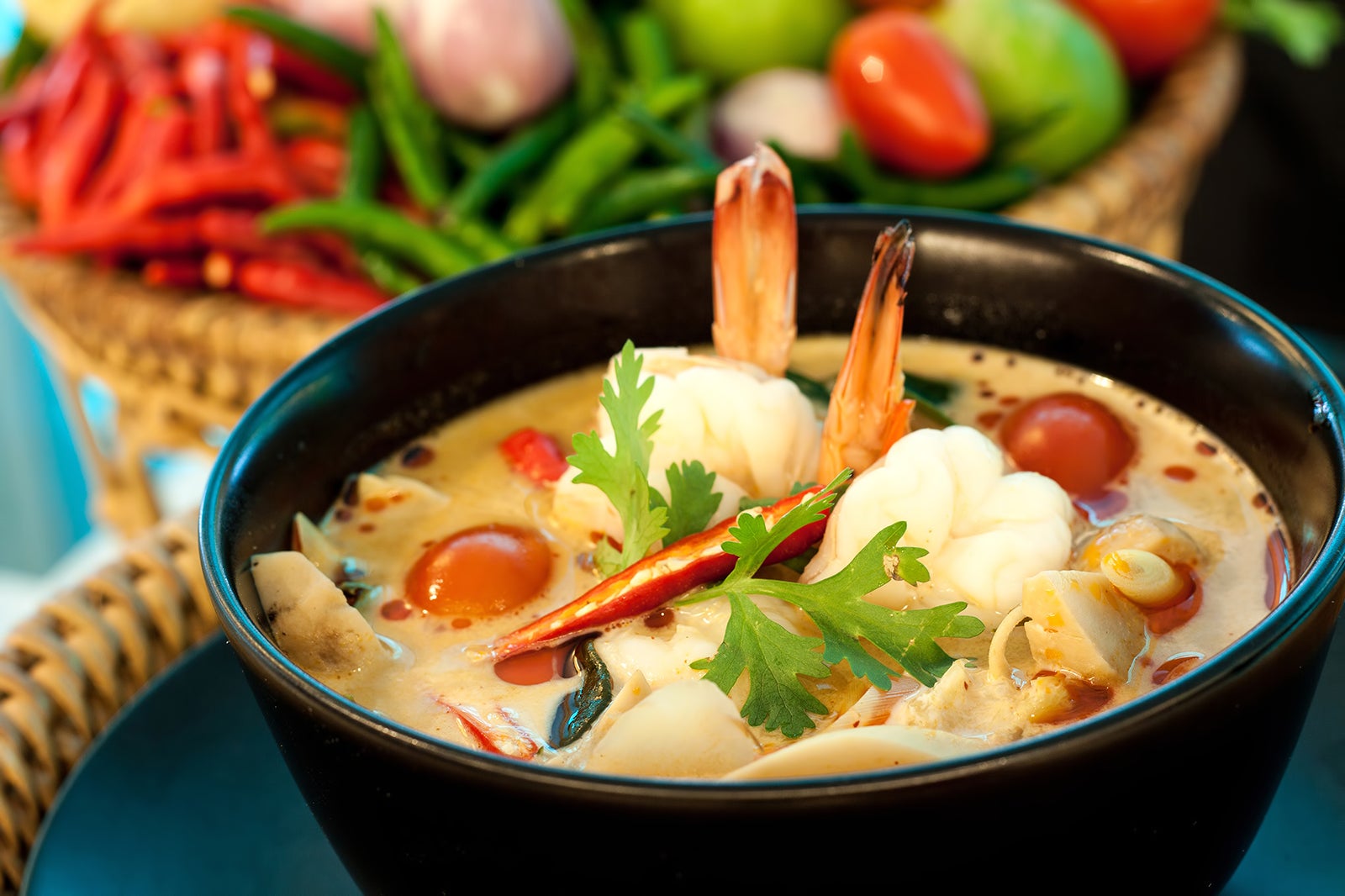 Tom yum goong is a bold, refreshing blend of fragrant lemongrass, chilli, galangal, kaffir lime leaves, shallots, lime juice, and fish sauce. Containing succulent river shrimps and straw mushrooms, this spicy and sour soup is best paired with steamed white rice.
2
Som tum (spicy green papaya salad)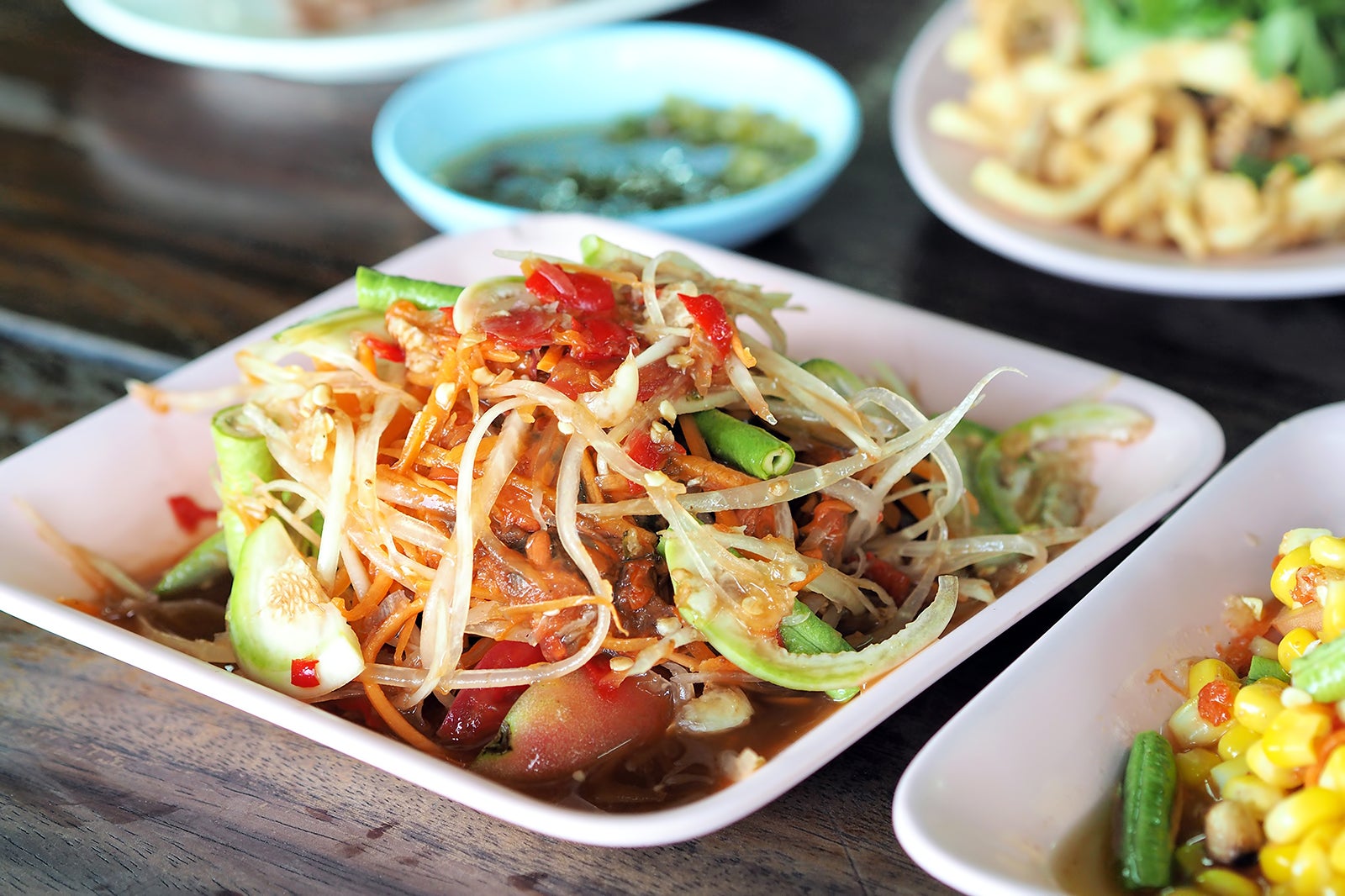 Som tum, or spicy green papaya salad, comes from Thailand's north-eastern state of Isaan. Garlic, chillies, green beans, cherry tomatoes, and shredded raw papaya are pounded using a pestle and mortar, which release a sweet-sour-spicy flavour that's quite distinctive. Regional variations include peanuts, dry shrimp or salted crab into the mix. This dish can be polarizing, as some can't get enough of its taste, while others simply can't handle the spice.
Tom kha kai (chicken in coconut soup)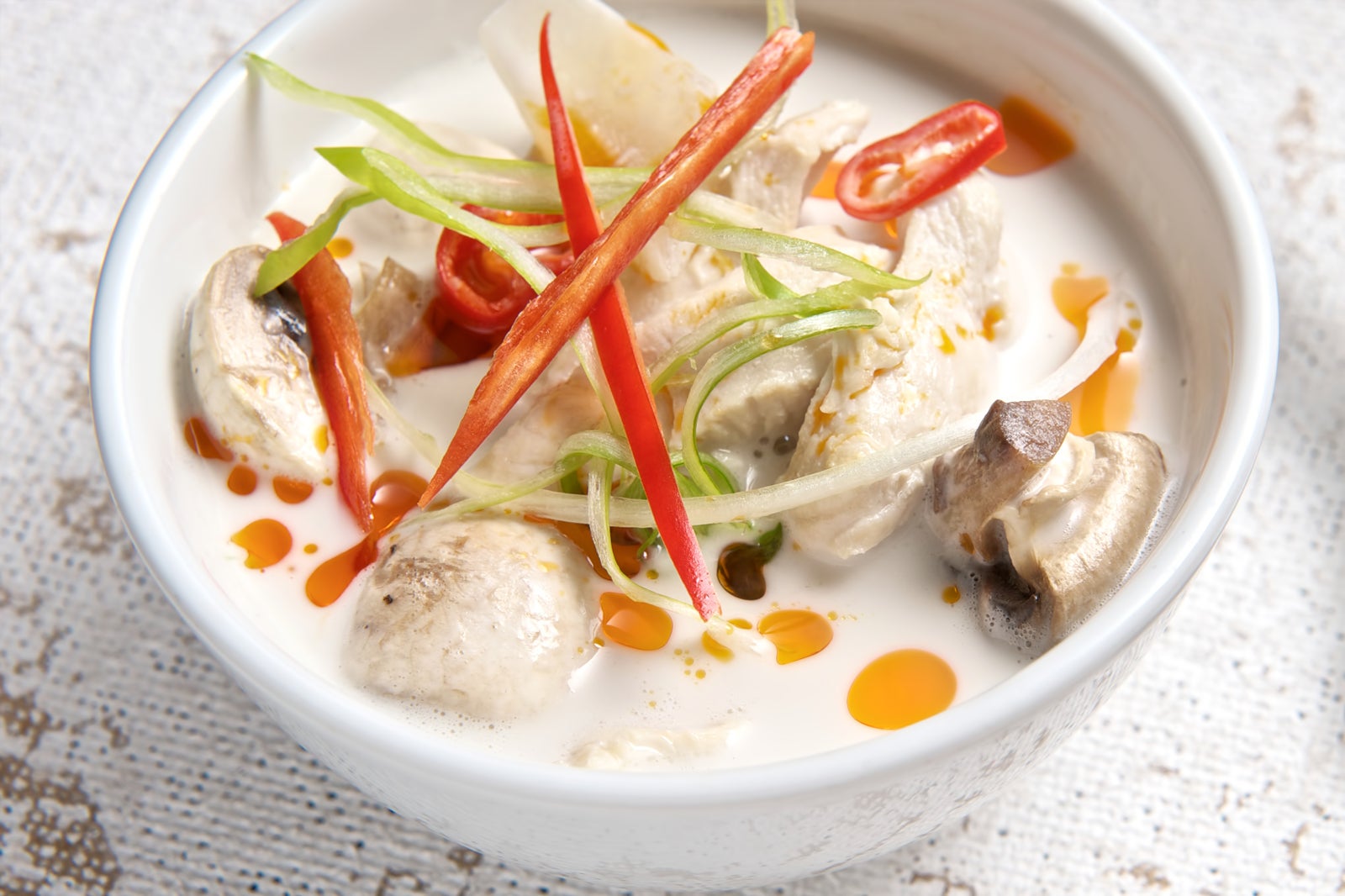 A mild, tamer twist on tom yum, tom kha kai infuses fiery chillies, thinly sliced young galangal, crushed shallots, stalks of lemongrass, and tender strips of chicken. The dish also includes coconut milk to reduce the spiciness, before topping it off with fresh lime leaves. Like most Thai-style soups, you can pair your bowl of creamy tom kha kai with steamed rice.
4
Gaeng daeng (red curry)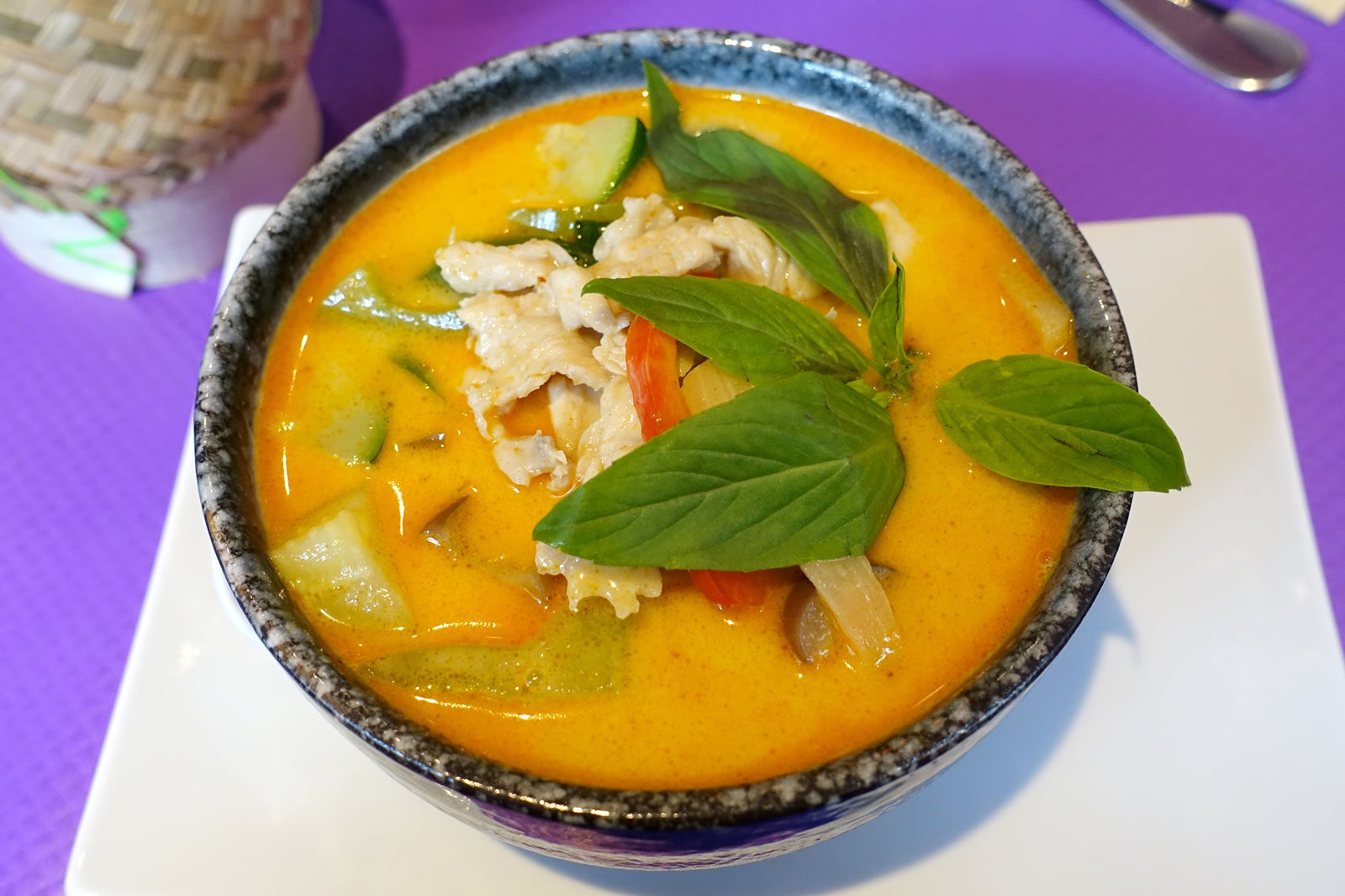 Gaeng daeng is an aromatic red curry containing meat, red curry paste and smooth coconut milk, along with a sprinkling of sliced kaffir lime leaves on top. Despite its striking colour, gaeng daeng is quite mild though you can request for fresh chilli if you're in the mood for spicy foods. Vegetarians or vegans can still enjoy this curry by asking the chef to replace the meat with tofu.
Pad Thai (Thai-style fried noodles)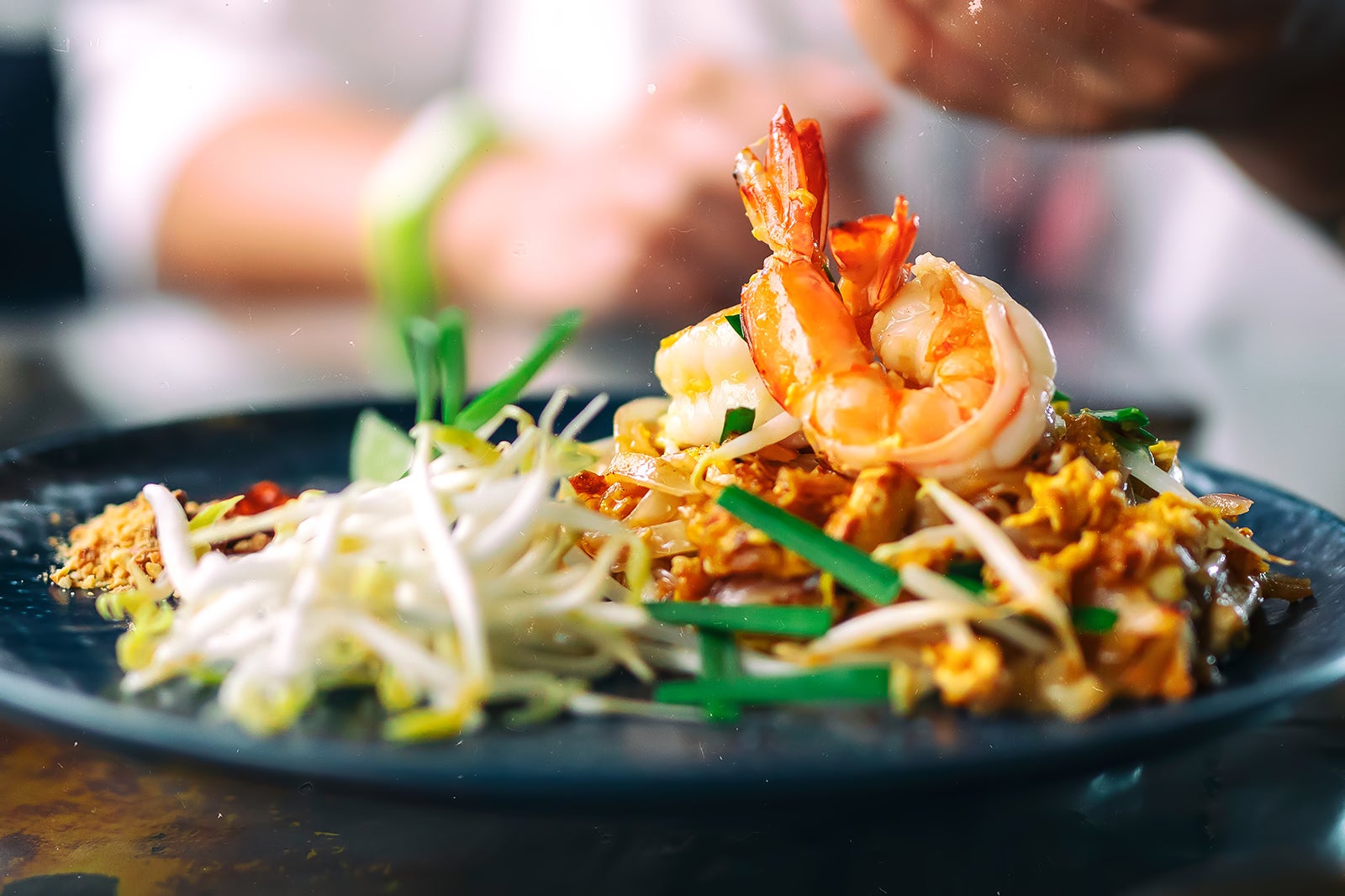 Pad Thai is one of Thailand's most recognised dishes. Fistfuls of small, thin or wide noodles, along with crunchy beansprouts, onion, and egg are stir-fried in a searing hot wok. The dish is also flavoured with condiments such as fish sauce, dried shrimp, garlic or shallots, red chilli, and palm sugar. Pad Thai usually contains seafood – especially fresh shrimp, crab or squid – but some places serve it with chicken, beef or pork. The stir-fried noodles are often plated with a slice of lime wedge, crushed roasted peanuts, bean sprouts, and fresh herbs.